---
---
Jute is the the second most important natural fiber after cotton. It is the cheapest and mostly used bast fibre in the world. Jute Fiber has a lustrous and shiny golden color, hence it is called "The Golden Fibre". Because of its high tensile strength and low extensive nature, Jute Fiber has been the best substitute for any other Vegetable Fibres and the best Natural substitute for Polypropylene.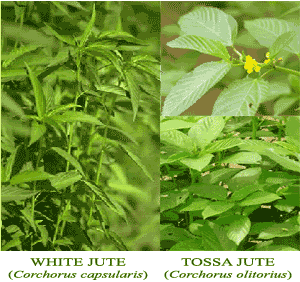 The major varieties of Jute are:
Bangla Tossa Jute (Corchorus olitorius)
Bangla White Jute (Corchorus capsularis)
These two varieties have great commercial value in the world fiber market and are widely cultivated in the Ganges Delta (India and Bangladesh). The White Jute fiber shows whitish golden luster and the and Tossa Jute fiber shows reddish golden luster.
Jute Fibre has previously been used only to produce yarn, ropes, burlaps, carpets, rugs, and sacks. However, in recent years, the use of jute has exceeded from its traditional frame and has been used to produce a wide range of diversified products that are eco-friendly, bio-degradable, and recyclable. It is the most versatile fibre that has been used to produce almost anything now-a-days.
The Traditional Jute Goods are: agricultural packaging materials (potato sacks), ropes, yarn, twine, fabric (burlap), carpet, rugs, sacks, etc. Currently, Jute is being used in the non-woven and chemical treatment technology where natural fibres are used. The common Diversified Jute Products are: Geo-textiles, automotive non-woven interiors, door panels, particle board, fire retardant fibers, etc.
There are some other varieties in the Corchorus genus, that are commonly known as Wild Jute. These Wild Jute are rarely cultivated and most of the time grow as weeds in different parts of the world. We are indicating the fibers from Wild Jute as "The Copper Fibers".
The most significant varieties of Wild Jute are: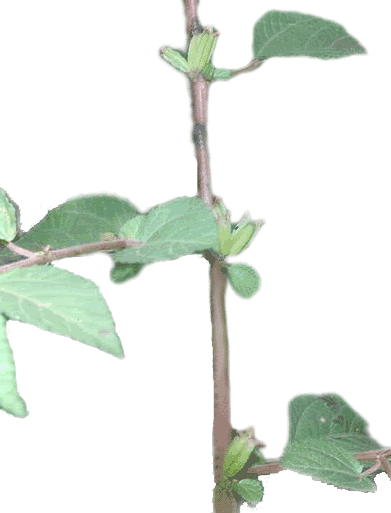 ▲ Corchorus aestuans ▲

▲ Corchorus tridens ▲
▲ Corchorus trilocularis ▲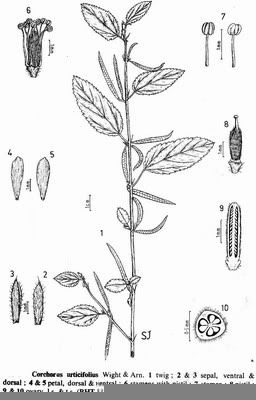 ▲ Corchorus urticifolius ▲
▲ Corchorus japonicus ▲
(Flowering Kerria or Japanese Rose)
This variety also has another Scientific name: Kerria japonica (Rosaceae Family)
Other than these varieties, there are also:
Corchorus fuscus : This variety is cultivated in some parts of the world.

Corchorus decemangulatus : This variety is also cultivated.

Corchorus monpoxensis : This variety is grown in Panama as a different variety of tea.
The reason the fiber from these plants are not found in trade, is because of the following facts:
Some of the Wild Jute Fibers are weak and hydro-sensitive. Therefore, the retting process of the bast fibers requires intensive care & cost,

Some Wild Jute has small & thinner bast or skin and thus produce far less amount of bast fibers then the 2 major varieties of Jute (i.e. Tossa & White Jute),

Wild Jute contains more Lignin (woody content) and thus is coarser than the major varieties,

Most of the fibers from Wild Jute are ineligible for spinning in Yarn Machineries,

For more coarseness, some Wild Jute Fibers requires more cost of production,

Some of the Wild Jute Plants are more vulnerable to plant diseases, insects, and pests than the major varieties of Jute,

Some of the Wild Jute Plants have many branches and this makes the procurement of fibers more labor intensive, etc.
Jute differs from Roselle Hemp (Mesta Jute) and Kenaf (Java Jute). However, Jute is sometimes misinterpreted as Roselle Hemp or Kenaf. These also are bast fibres and commonly called the Allied Fibres of Jute. Roselle Hemp and Kenaf are different variety with same procurement and processing technology.
These fibers belong to the Hibiscus genus and also has equal commercial value in the world fiber market as Jute Fibers. These two fiber plants are also widely cultivated in Bangladesh. Having silvery shine, we are indicating these fibers as The Silver Fibers.
▲ Roselle Hemp or Mesta Jute Plant (Hibiscus sabdariffa) ▲
▲ Kenaf or Java Jute Plant (Hibiscus cannabinus) ▲
The Roselle Hemp and Kenaf plants almost look the same. However, Roselle Hemp Plant has many branches and Kenaf plant has very few. Even though Jute is widely available vegetable fiber, Kenaf and Hemp is more popular in the western world (Europe & America). Therefore, Jute is often called The Bengal Hemp (Chanvre du Bengale in French) and misinterpreted as Kenaf in most western countries.
▲ Roselle Fruit ▲
The Roselle hemp (Chanvre Rosella in French) plant is also popular for a Rose-like citrus fruit. The fruit is used as ingredients for sauce, sour dishes, Vitamin-C concentration, etc. But, to procure fine bast fiber, the plant is harvested before the blooming of flowers.
▲ Urena Fiber Plant (Urena Lobata) ▲
Urena lobata is also largely found in many parts of Bangladesh. It grows in marshy and soft soils, but is rarely cultivated. Most of the time it grows as weeds. The fiber from this plant has silver as well as golden color.
Out of all these fibers listed in this blog, only Corchorus olitorius, Corchorus capsularis, Hibiscus sabdariffa, and Hibiscus cannabinus is widely found in trade and Bangladesh is the major source for these bast fiber.
It is estimated that the demand for fibres for clothing alone will rise from the current 60 million tons up to 130 million ton per year in the year 2050 (Kozlowski, 1996), not mentioning the fibre consumption for various other purposes. Therefore, fibers like Hemp, Ramie, Flax, and other bast fibers will totally be utilized by the Textile & Clothing Industry. In industries like the bedding, furniture, automobiles, non-woven, composite, and other similar industries: Jute and its allied fibers will play a monopolistic role in near future. The name "Golden Fiber" will once gain be justified.
If you like to know more about Jute and its properties, please click here to visit our page about Jute
Picture Courtesy: www.desert-tropicals.com, www.malvaceae.info, www.institutohorus.org.br
---
Jute Fiber Exporter | Jute Fibre Exporter
Exportateur De Jute | Jutefaser-Exporteur
Esportatore Della Iuta | Exportador Del Yute
---
Disclaimer: We only deal with Bangla Tossa Jute (Corchorus olitorius), Bangla White Jute (Corchorus capsularis), Roselle Hemp or Mesta Jute (Hibiscus sabdariffa), and Kenaf or Java Jute (Hibiscus cannabinus). We do not deal with other bast fibers mentioned in this blog.